Your paediatric practice in the heart of Munich.

All private insurers and self-payers
Your paediatric practice in the heart of Munich.

All private insurers and self-payers
Welcome to Kindermedizin LEO9
Our group practice for paediatrics and neonatology offers professional, loving and individual care for your child from birth through adolescence into adulthood. As an experienced team of paediatricians, we are your first port of call for all your children's health needs. We offer expert advice and treatment in paediatric rheumatology, paediatric cardiology and paediatric sleep medicine.
Our aim is to understand and support the child in his or her environment, especially the family. We therefore look forward to your visit to our modern paediatric practice at Leopoldstrasse 9.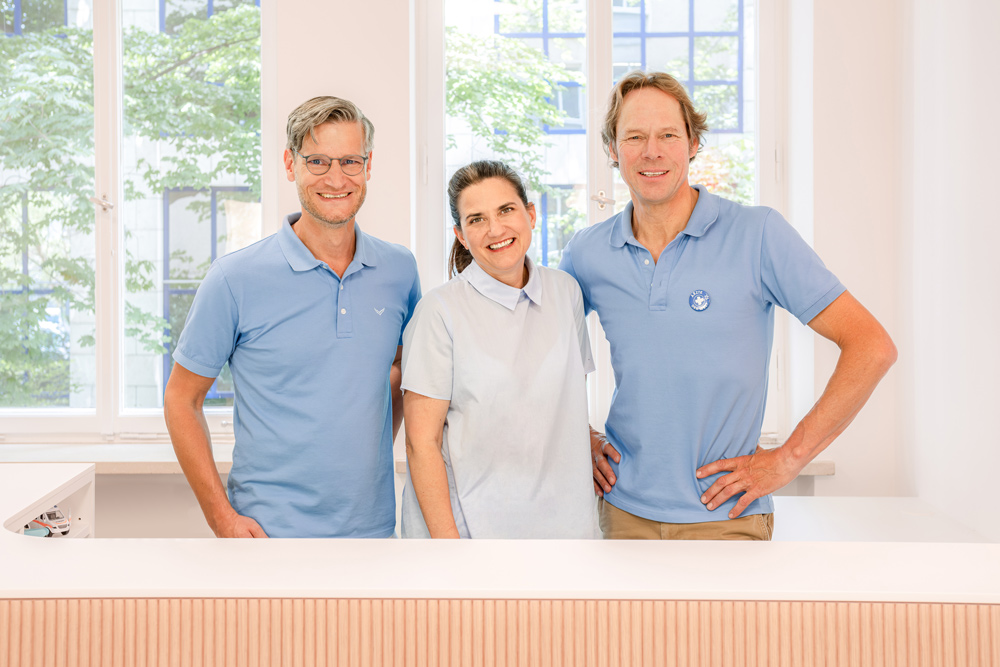 Matthias Frerick | Dr. med. Stephanie Maron | Dr. med. Peter Schwick
Schedule an appointment now
You have the option to easily schedule an appointment via Doctolib. Of course, we are also available for appointment scheduling by phone or email
In our pediatric practice, we offer comprehensive services for the health and development of your child. We conduct all pediatric check-ups and accompany your child through all growth and developmental phases. Additionally, we provide a wide range of vaccinations and travel protection to best safeguard your family. We have particular expertise in pediatric rheumatology, sleep medicine, and cardiology. Our goal is to establish a trusting and long-term relationship with our young (and not-so-young) patients and their families.
Preventive medical examinations ("U" and "J" examinations)

Developmental screening and counselling




Vaccination advice and vaccinations

Paediatric rheumatology

Sleep medicine consultation

Yellow fever vaccinations

Co-vaccination for parents and grandparents

Treatment of acute and chronic illnesses

Close care of premature babies

Minor surgery: treatment of minor wounds, removal of stitches

Speech tests

Hearing tests

Sight tests

Nutritional advice

Sonography (ultrasound): Heart, abdomen, infant hips, internal genitals, kidneys and urinary tract, skull in newborn and premature babies, thyroid and soft tissues of the neck

Laboratory tests (blood samples, smears, urine and stool tests)

Rapid diagnostics, also with PCR tests in the practice

ECG

Allergy diagnostics

Lung function diagnostics

School and nursery certificates

Medical fitness certificates

Surgical preparation

Travel medicine (vaccination advice, prophylaxis, travel vaccinations)

H2 breath testing (fructose, lactose)

Video consultation

Parenting advice

Advice on increased crying, feeding and sleep problems

Health check-ups (nursery, school)

Sports tests / certificates (sports club)

Adolescent exams (apprenticeship exams, sub-professional exams)
Kindermedizin LEO9
Leopoldstr. 9
80802 Munich
Phone: 089 / 340 89 785
Fax: 089 / 340 89 787
E-Mail: kindermedizin@leo-9.de
Your paediatric practice in Munich-Schwabing
Welcome to the practice of paediatric medicine LEO9 in the heart of Munich. We are your competent contact for the health of your child. With many years of experience and state-of-the-art equipment, we offer you and your child comprehensive medical care. Our experienced team of doctors will take care of your child's needs and provide you with advice and support. We attach particular importance to sensitive and child-friendly treatment in order to make your children's stay with us as pleasant as possible. Our practice has modern equipment which enables us to carry out quick and precise diagnostics. We use innovative technologies and the latest medical findings to ensure the best possible treatment. Make an appointment now and convince yourself of our first-class medical care. We look forward to your visit to our paediatric practice LEO9 in Munich-Schwabing.